Quality Control
When you think about Quality you thinks about Chhatariya Veg Expo Pvt. Ltd. Quality is a source of inspiration, Satisfaction and Pride. We are committed to customer's satisfaction through hygiene Quality and consistent supply of product in time.
We strive for continuous improvement in Quality assurance system to improve our productivity and enhance the skills of all our personals. Our main object is to use best quality of Raw onion for dehydration. Thus we can achieve our goal to producing best quality of dehydrated products. 
For Quality Matter we take step Like
1. Purchase of Good Quality Big Size Raw Onion.
2. Proper Grading of Size of Raw Onion and Then Wash Properly by Chlorinated Water.
3. Continuous Belt Dryer for Moisture Control.
4. After Dehydration Process Product Pass Through Color Sorter Machine, Metal Detector, Magnetic Stick and Also on Sorting Belt for Visual Checking by Labor So there would be no chance for Foreign Impurities.
As much as Grade A1 required stage product are tested in in-house laboratory for microbiological and TPC analysis of product and for Other required Analysis we test in SGS external lab every week. We keeps production staff, who is physically fit, active & person having good knowledge of Dehydration.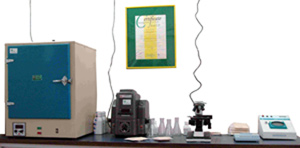 FSMS & QMS Certified Unit
Quality measures international standard. Our product have a very low moisture content and a perfect packaging thereby effectively controlling all Specification. Our products are certified by HALAL & KOSHER, We are also certified with ISO 22000:2005 & ISO 9001:2015.